Sumitomo Electric offers a wide variety of cables to meet the ever-changing needs of electronics designers in different industries. Our portfolio of electronic interconnect products includes flexible printed circuits, flexible flat cables, micro flex coaxial cables, and Thunderbolt 3 cables.
Flexible printed circuits (FPC)
Flexible printed circuits are a patterned array of conductors supported by thin and flexible dielectric film. One of the most versatile electronic interconnect products, FPC is widely used in advanced electronics such as automobiles, robotics, medical equipment, and consumer electronics. As device manufacturers add more and more functionality to their products, we keep pace with requirements by providing many types of FPC with advanced features. Examples include high flexibility, ultra-softness (low spring-back), high shape retainability, ability for high-speed transmission, high heat-resistance, and fine-pitch circuitry. Through continuous R&D we are able to address new needs for miniaturization, lighter weight, and higher functionality.
SUMI-CARD™ flexible flat cables
SUMI-CARD cables are cost-effective, lightweight cables that are used to transmit signals and power inside consumer electronics and in automotive applications. They are formed through a process of laminating multiple flat conductors with micrometer precision into a finished cable, which results in a significantly thinner, space-saving profile than conventional electronic cables. SUMI-CARD enables easy connections without miswiring. We can supply them in various lengths, conductor counts, and constructions. Among the available types: conventional, gold-plated, shielded (for enhanced EMI resistance), high-frequency, high-temperature and high-humidity resistant, and halogen-free. New types of SUMI-CARD are continually being developed for custom interconnects.
MFCX™ micro flex coaxial cables
MFCX cables are extremely thin and highly flexible communication cables that are used for the internal wiring of electronic devices such as flat panel displays, laptops, smartphones, and medical equipment. They feature a very small outside diameter, typically between 0.20 to 0.35 mm (AWG 46 to 36). A bundle of 40 wires can be formed with a diameter of less than 3 mm. MFCX cables give electronics designers the ability to achieve high-speed data transmission while reducing either the size of an internal subsystem or the overall size of the device. Inside the cable, wires are individually shielded to provide excellent EMI resistance. A double-shielding option to further enhance noise immunity is also available. Cable assemblies are designed according to customer specifications, with further miniaturization being possible upon request.
Thunderbolt™ 3 cable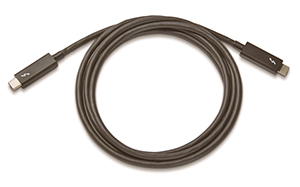 To support data-intensive applications such as 4K video display or 4K video editing, we offer Thunderbolt 3 cables for connecting computers to multiple 4K monitors, high-capacity data storage devices, and other peripheral devices. The Thunderbolt 3 hardware interface was developed by Intel Corporation to enable high-speed data transmission of up to 40 Gbps through a computer's USB-C port. Thunderbolt 3 cables from Sumitomo Electric have been certified by Intel to operate at this maximum data rate. These cables can also supply up to 100 W of power to connected devices, which in most situations will simplify cabling among devices and result in significantly less cable clutter. Cables are available in lengths up to 2 meters. At any length, they are highly durable even if pinched up to 180 degrees or tangled in knots, thanks to our proprietary micro flex coaxial cable technology.
Recognizing a growing need for longer cables in the fields of video production and virtual reality, in 2020 we announced the development Thunderbolt 3 active optical cables that can deliver 40 Gbps data transmission at cable lengths up to 50 meters. These cables are a fusion of our optical fiber cable technology and optical module technology. Sumitomo Electric's Thunderbolt 3 active optical cables have also been certified by Intel as meeting the interface's technical specifications.
As for Thunderbolt 4, Sumitomo Electric rolled out a new lineup of cables in November 2020. Please contact us for more information.
Thunderbolt™ is a trademark of Intel Corporation in the United States and other countries.