Intelligent Traffic Signal Management
Sumitomo Electric has been providing the traffic control system to the world's largest Traffic Control Center of the Tokyo Metropolitan Police Department since the late 1960s. We have traffic engineers with extensive signal timing knowledge. Our Intelligent Traffic Signal Management utilizes the input from this team of experienced engineers and a substantial amount of high-resolution probe vehicle data to help the municipal, state, regional, and national agencies manage the traffic signal systems more efficiently.
---
Key Technology: Intersection Traffic Condition Monitoring
Leverages the high-resolution probe vehicle data to monitor the traffic conditions of the entire target area and automatically extract intersections that require signal timing adjustments. There is no need for expensive infrastructure sensors or time-consuming and labor-intensive traffic surveys.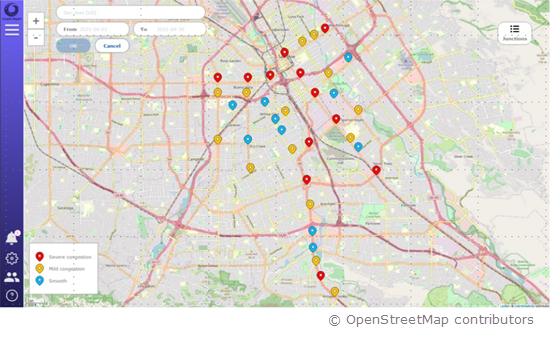 ---
Key Technology: Optimal Signal Retiming Plan
Analyzes the traffic conditions of the target intersections in detail and automatically creates the optimal signal retiming plan to eliminate traffic congestion. No need for knowledge of advanced traffic engineering.
---
Technology Validation
The above key technologies have been tested and validated in Tokyo, Japan. Please see the following reference papers for details. A field operational test of traffic signal control using probe information in Bangkok, Thailand is planned to take place in 2022.
Traffic Signal Control Parameter Calculation Using Probe Data
T Yoshioka, H Sakakibara, R Tenhagen, S Lorkowski & T Oguchi
International Journal of Intelligent Transportation Systems Research 20, 288-298 (2022)
Detection of Congested Intersections Using Car-Probe Data
S Matsumoto, H Sakakibara, Y Nagashima, T Yoshioka & S Nishimura
Sumitomo Electric Technical Review, Number 94 (2022)
Multi-Gig Automotive Ethernet Products with Automotive PHYs
Sumitomo Electric is developing Multi-Gig Ethernet connectivity products with automotive PHYs. This is targeted at In-Vehicle Networks that will enable new levels of autonomous driving.
Cellular Vehicle-to-Everything (C-V2X)
C-V2X is an expected solution for safety and efficiency in road environments by Vehicle-to-Vehicle (V2V), Vehicle-to-Infrastructure (V2I) and Vehicle-to-Pedestrian (V2P) communication. Sumitomo Electric evaluates C-V2X units in our testbed and public roads in Japan.
| | |
| --- | --- |
| Frequency | 5.8 ~ 5.9 GHz |
| TX Power | 23 dBm |
| Antenna | Diversity (RX) |
| Power | 12 V DC |
Engineering sample
---
Connected Vehicle Experiment
Connected vehicle technology has the potential to significantly prevent or reduce the impact of millions of accidents. Sumitomo Electric has been testing in some scenarios to confirm the advantages of connected vehicles while collaborating with external partners in the real environment.